Developer's Corner: New Phases Begin in Inspiration, Designs Start for Club Inspiration
We have an outstanding group of award winning Dallas new home builders in Inspiration. Meritage Homes and Saxony Homes by Shaddock are constructing new homes in Destiny Village, located on the north side of Inspiration Boulevard. Highland Homes and K. Hovnanian Homes are finishing out construction in Hope Village and starting to move construction operations into Harmony Village, near the George W. Bush Elementary School.  Mercury Homes is our top end builder and is constructing homes in Discovery Village.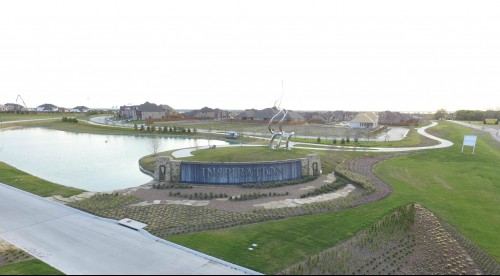 In other development news, the next phases of Inspiration (Faith and Wisdom Villages) are now being designed and we are underway with engineering and obtaining entitlements.  The preliminary plats will be submitted to City of Lucas, City of Wylie and Town of St Paul before the end of April, 2016; with the start of the grading operations scheduled for June, 2016.
Hope Harbor has been completed and the pool is available for use.   Memorial Day will mark our first celebration to officially open the pool for the summer.  Please come out and join us for this event on Saturday, May 28, 2016 from 11 am to 2 pm. Food and drinks will be provided by the HOA.  This will be a great opportunity to meet new neighbors. We look forward to seeing you all there.
The design of Club Inspiration is well underway and construction is anticipated to start in 2017.  Due to the building size and design the construction will take approximately 12 to 18 months to complete, but will definitely be worth the wait.  The complex design currently includes a clubhouse with a workout facility, party rooms, catering rooms, the HOA offices, and an amazing resort style pool with private cabanas and a separate pool for adults, tennis courts, sand volleyball court and a sports field.  We are focusing on refining the design, so it will be ready to start when the infrastructure to it is completed.
In April, our new HOA Manager, Sheryl Porter, has moved into her onsite office location. You may easily find Sheryl by stopping by the newly installed (temporary) HOA headquarters, located at 2770 Aztec Road. The entrance and parking for the office is easily accessed from Sunset Sail Drive in Discovery Village. These offices will be moved to Club Inspiration, when the building is completed.
The construction of the George W Bush Elementary School is well underway and is on schedule to open for the 2016-2017 school year. The new principal, Dr. Helm, will be a great leader for the school and Wylie ISD. Read our blog feature to learn more about Dr. Helm's educational background and experience.
Over 50 families call Inspiration home, and we're ready to welcome you and your loved ones to find your dream home and be a part of our growing community today.