The 10 U.S. Cities With the Fastest-Growing Suburbs
by Yuqing Pan, Realtor.com | Original story here
Ever since the modern American suburb sprouted like kudzu in the post-WWII era, we've found ourselves in a love-hate relationship of epic proportions.
Love: Owning your own slice of the dream—a home with a front and back yard, far from urban crime, crowds, squalor, and substandard schools.
Hate: Leaving behind the thrill and culture of the city and settling into a tragically unhip, homogenized milieu, skewered in all its soul-crushing glory by everyone from Updike to "Stepford Wives" to "Mad Men."
But here's the thing: We can't quit them.
Even the most die-hard urbanites often wake up to realize they crave more space and better public schools at a lower price—while hopefully remaining within commuting distance of the jobs, restaurants, and indie music joints of the Big City.  In some of the nation's top metro areas, the suburbs are growing faster than the city proper.
And now with an aging millennial generation, and growing interest from minorities, suburban communities are getting a fresh influx of transplants seeking affordable, family-friendly living. From 2010 to 2017, households in the suburbs grew 7.9% nationally, compared with 6.6% growth in urban areas, according to a realtor.com® analysis of Nielsen population data.
"Most high-growth urban areas just don't have enough land, so prices are higher and homeownership is typically lower," says Jonathan Smoke, our chief economist. "It's tempting to live in a walkable urban neighborhood … but the costs make it hard to afford, especially  for large or growing families."
To pinpoint which suburbs are growing the fastest, our data team looked at where the number of households, home listings, list prices, and demand for homes are growing the fastest for every ZIP code in the 50 largest metro areas—our research portal has a more in-depth analysis of each metro. What did the data reveal?
It turns out America's most sought-after suburban neighborhoods are often the exurbs of its fastest-expanding metros—places where those white picket-fenced homes often offer a way more affordable option.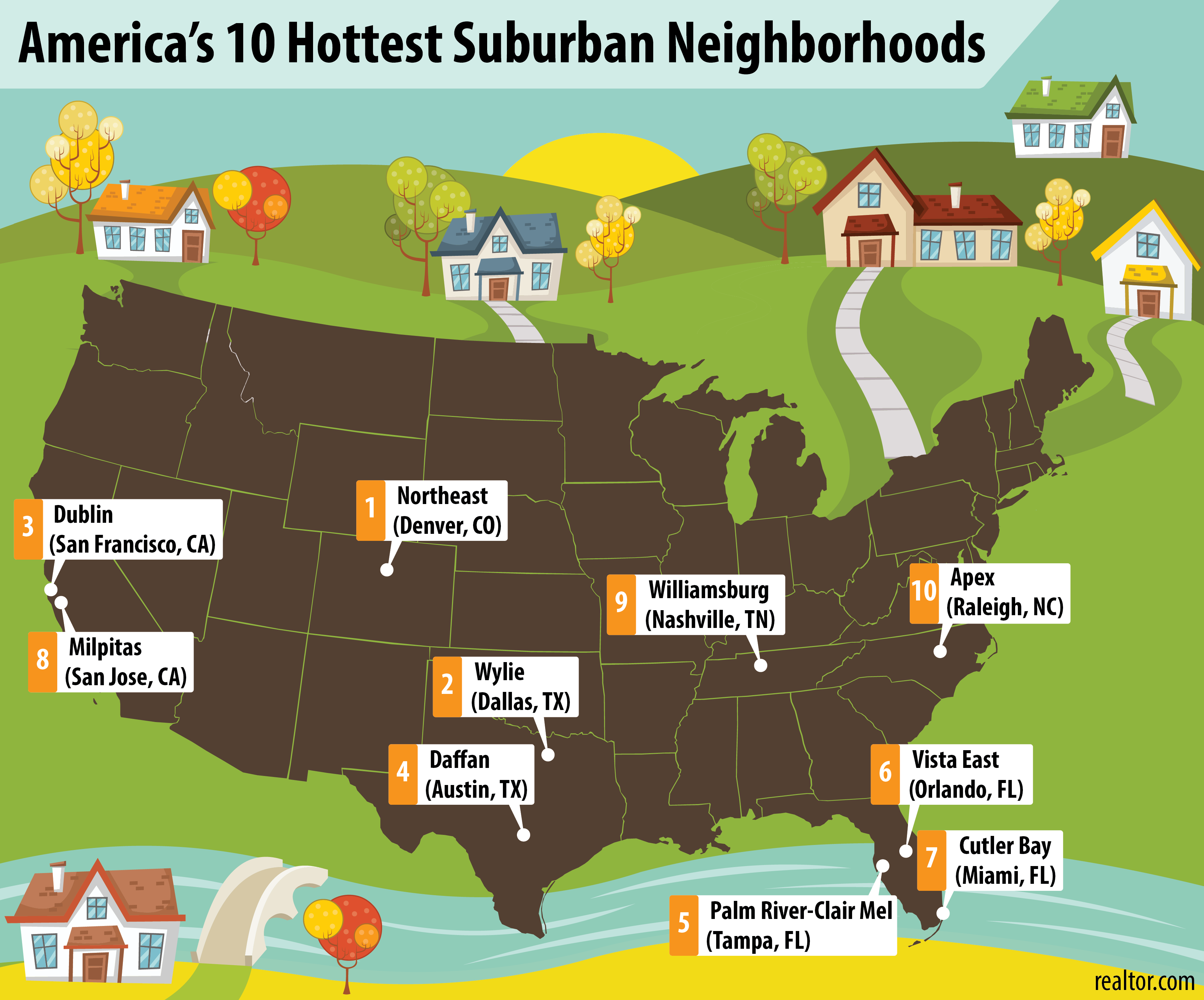 1. DENVER, CO
Median urban home price: $544,000
Hottest suburban neighborhood: Northeast Denver (ZIP code: 80239)
Median price in Northeast Denver: $270,000
Suburban savings (moving from the city to the suburbs): 50%
The suburb known as Northeast Denver burst onto our radar with the opening of the surprisingly cool Stanley Marketplace—a chic, food-centric neighborhood center with restaurants, beer halls, and a yoga studio. It's helping turn the former industrial neighborhood into the next hot spot.
The proof is in the prices. The median home price in the neighborhood jumped 27% last year—making Northeast Denver the fastest-growing suburban neighborhood in our analysis. (That sure makes sense, given that the city of Denver is also growing at a breakneck pace.)
"The Marketplace is one of the things really joining the top 1 percenters and the bottom 10 percenters here," says Jessica Jiang, a real estate agent with Re/Max Momentum.
Lifelong Northeast Denver resident Jascon Willis, 37, an  oil industry consultant, is witnessing the changes with some apprehension.
"It's growing," says Willis, who hopes longtime residents won't be displaced. "It's an area in transition."
Fun fact: Bordering Northeast Denver is the Rocky Mountain Arsenal National Wildlife Refuge, inhabited by 330 species, including coyotes, black-footed ferrets, and bison.
2. DALLAS, TX
Median urban home price: $501,500
Hottest suburban neighborhood: Wylie (ZIP code: 75098)
Median price in Wylie: $369,000
Suburban savings: 26%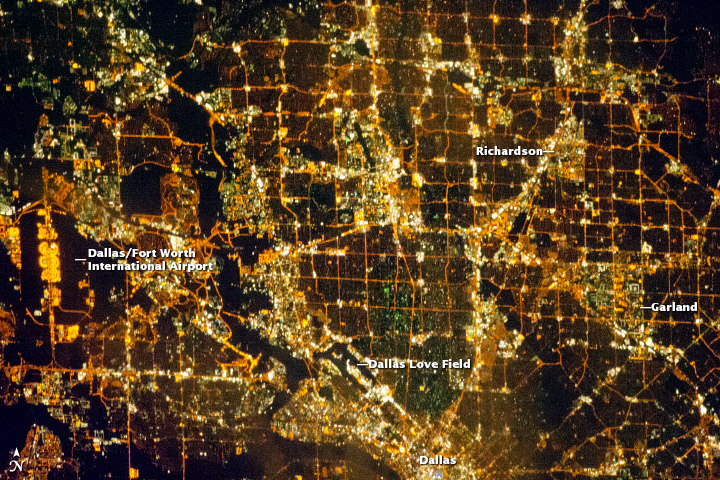 For folks who work in central Dallas but want to retreat to suburban security each night, Wylie is turning out to be just the place.
Named one of the safest cities in the U.S. by the website Neighborhood Scout, it's home to a mix of young families as well as established professionals, with many first-time homeowners. The median home list price in Wylie currently sits at $352,000, around $100,000 above the national median—but hey, safety's worth it, right?
With buyers eager for homes, new residential construction is booming. In fact, overall economic growth in the area has exerted pressure on the local labor market for more college-educated workers.To that end, the city worked with Collin College to sponsor a large new campus in Wylie, scheduled to open in 2020,
Fun fact: Sorry, the place was NOT named after Wile E. Coyote—the guy who supplied its moniker was railroad engineer Col. William D. Wylie, who helped pave the way for the trains that brought prosperity to Wylie in the 1880s.