Developer's Corner: Inspiration Continues to Grow Well into 2016
In 2015, Inspiration welcomed a total of 34 families to the community. Current and future Inspiration homeowners gathered for Inspiration's First Annual Tree Lighting Ceremony in December, providing everyone an opportunity to gather and celebrate the holidays with their future neighbors and their families.
"My family and I really enjoyed such a lovely event at Inspiration and appreciate the thought and effort that went into the first HOA Holiday Party. The event itself was so much fun and even more fun to have the chance to meet and socialize with our future neighbors!" said future Inspiration resident, Melissa Lopez.
Huffines Communities owners, Phillip and Donald Huffines, are excited about the continued vigor in the marketplace and have already started planning upcoming community villages with additional parks, landscaping and the future Club Inspiration pool complex. With home sales in Inspiration dramatically increasing, design and construction is well underway for these new villages.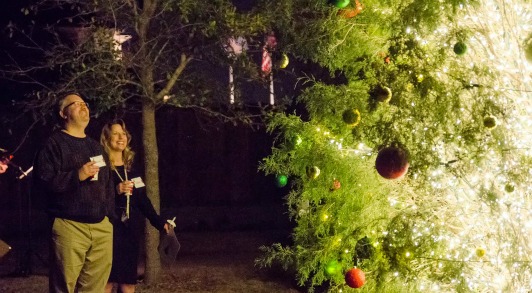 Inspiration is tremendously fortunate to have five outstanding Dallas-Fort Worth builders, including Highland Homes, K. Hovnanian Homes, Mercury Custom Homes, Meritage Homes and Saxony by Shaddock Homes. New lots in Harmony Village and the new Destiny Village have been delivered to the builders for start of home construction. These two villages have a total of 176 new lots available for purchase by new residents, and we are starting the new design on approximately 350 lots in the next phase of Faith Village.
Additionally, Inspiration would like to welcome Sheryl Porter as our new HOA manager. Sheryl will be starting full time on Monday, February 1, 2016. Sheryl will be contacting residents to introduce herself and issue pool card readers.
In other news, George W. Bush Elementary is well underway with construction and scheduled to open August 2016. Wylie ISD has been an amazing partner in this community, so we hope to continue this partnership with the support of Inspiration and its residents.
Finally, Hope Harbor Park and Pool Complex is now (mostly) complete! We are only awaiting the delivery and installation of playground equipment. The equipment delivery had been delayed, but is expected to arrive shortly! Hope Harbor Park pool will be accessible to residents during both summer and winter months. This year-round access will be on a trial basis.  Access to the pool will be card reader accessible during the winter months and may only be accessed during the posted hours of operation. During these times, the pool complex will NOT have a lifeguard on duty, so please note it will be "Swim at Your Own Risk".